KP10
EST:
Morgensterni aed, mälestussammas Toomemäel
1802. aastal saatis Tartu Ülikooli taasavamist ette valmistav kuratoorium Danzigi Athenaeumi professorile Johann Karl Simon Morgensternile (1770–1852) teate, et ta on valitud klassikalise filoloogia, kõnekunsti, esteetika, kirjanduse ja kunstiajaloo professoriks ning raamatukoguhoidjaks. Raamatukoguhoidja oli sisuliselt direktor, kes vastutas raamatukogu töö eest ja suunas seda.
Toomemäe põhjaküljele, raamatukogu lähedusse soetas direktor Karl Morgenstern endalegi maatüki, kuhu asus aeda rajama ning plaanis ehitada elumaja. 1848. aastal kinkis ta maatüki koos aiaga ülikoolile. Siia rajati tudengite jaoks keegliplats, püstitati kiiged ja võimlemisseadeldised. Plats ümbritseti taraga, et võimlevad tudengid ei riivaks mööda jalutavate daamide silma. 1851. aastal paigaldati aia piirile liivakivist obelisk, millel on pronksplaat tekstiga "Area Morgensterniana".
Karl Morgensterni kirjast oma aia kinkimise kohta Tartu Ülikoolile:
"Ma sooviksin, et selle aia, mis on saanud oma hilisemal kujul tänu selle ebatasasest maapinnast tingitud rohkearvulistele vaheldusrikastele vaadetele linnale, maale ja Emajõele ning tänu hulgale varjulistele lõõgastuskohtadele tervitatavaks kogunemiskohaks tihtilugu väga arvukalt kokku tulnud seltskonnale, südamelähedaseks ülikooli liikmetele ja nende perekondadele, võiks jätta ühe hallipäise lahkunud liikme kingitusena päranduseks keiserlikule Tartu ülikoolile tingimusel, et see minu poolt neljakümne aasta eest rajatud, sellest ajast peale kuni praeguseni nelikümmend aastat võimalust mööda rohkem või vähem korras hoitud aed jääks tervikuna alles ja kannaks ka tulevaste aegade jaoks Morgensterni Toome-aia nime sellesinase ülikooli aastatepikkuse, oma õppeainetes esimese professori ja ühteaegu esmakutsutud pikaajalise bibliotekaari mälestuseks."
Allikas
Qui vult, potest: Karl Morgenstern 250. Tartu: Tartu Ülikooli Kirjastus, 2020; https://www.ester.ee/record=b5386802*est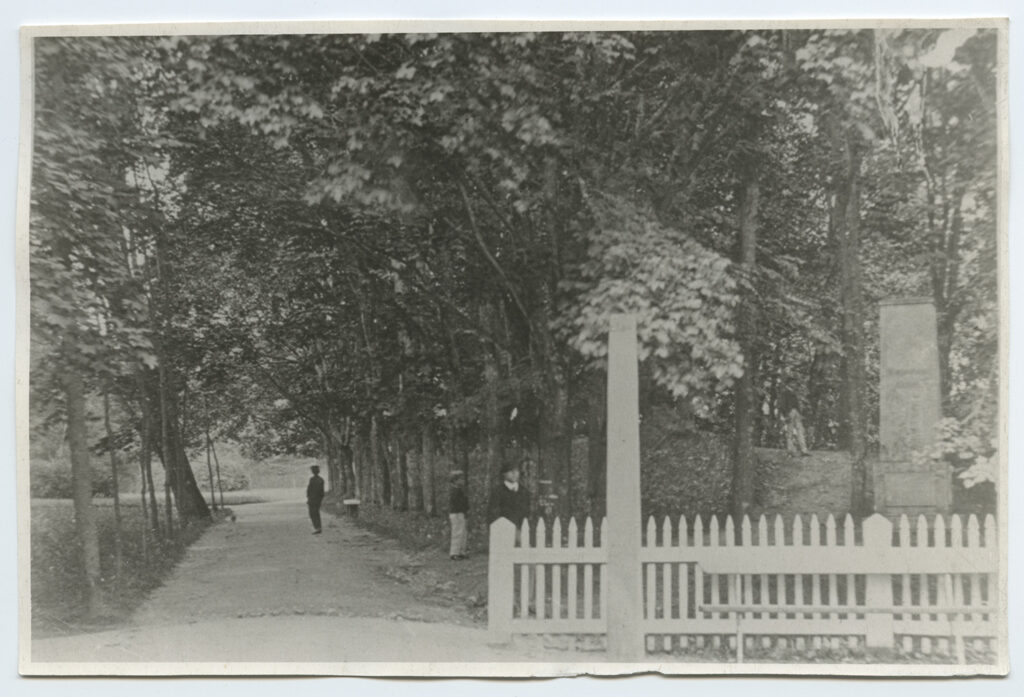 ENG:
Morgenstern's garden, monument on Toome Hill
In 1802, the board of trustees preparing for the reopening of the University of Tartu sent a letter to Johann Karl Simon Morgenstern (1770–1852), a professor at Athenaeum, Danzig, to announce that he had been selected for the position of the professor of classical philology, eloquence, aesthetics, and history of literature and art, and the librarian. The librarian was essentially a director responsible for the operation and development of the library.
Karl Morgenstern bought a plot of land near the library on the northern slope of the Toome Hill, where he started a garden and planned to build a house. In 1848, he gave the plot and the garden as a gift to the university. Here a bowling ground was made, and gymnastics equipment and swings were installed for students. The area was surrounded by a fence so the sight of students doing gumnastics would not disturb the ladies walking nearby. In 1851, a sandstone obelisk was erected at the border of the garden, carrying a bronze plate with the inscription "Area Morgensterniana".
From Karl Morgenstern's letter on bequeathing his garden to the University of Tartu:
"I wish that this garden, which in its current form, providing numerous varied views of the town, country and River Embach thanks to the uneven terrain, and its many shady resting places, has become a welcome location for gatherings, often of substantial number of people, and dear to the university members and their families, could be left as a gift to the Imperial University of Dorpat bequeathed by a grey-haired member of the university on the condition that the garden, established by myself forty years ago and more or less tended to for forty years, circumstances permitting, be kept intact for posterity and bear the name Morgenstern'ischer Domgarten in memory of a long-standing first professor in his disciplines and the first-called long-term bibliothecary of that very same university."
Source
Qui vult, potest: Karl Morgenstern 250. Tartu: Tartu Ülikooli Kirjastus, 2020; https://www.ester.ee/record=b5386802*est