KP12
EST:
Puksoo pink Toomkiriku ees
Aastal 2019 sai rahvusülikooli 100. sünnipäeva puhul Toomemäele omanimelise pingi Tartu Ülikooli raamatukogu kunagine direktor Friedrich Puksoo.
Eesti raamatuteadlane ja bibliograaf, raamatukogunduse rajaja Friedrich Puksoo (aastani 1935 Puksov) sündis 23. jaanuaril 1890 Sillaotsa talus Naha külas Meeksi vallas. Aastal 1914 lõpetas ta klassikalise filoloogina Tartu Ülikooli.
1. jaanuarist 1920 kinnitati Puksoo Tartu Ülikooli raamatukogu juhataja kohale.
Alates 1927. aastast korraldas ta ülikooli juures raamatukogunduse ja bibliograafia kursusi, mis olid aluseks raamatukoguhoidja kutseõppele. 1944. aastal moodustas Puksoo ajaloo-keeleteaduskonnas bibliograafia kateedri. 1941. ja 1944. aastal osales ta kogude evakueerimisel Tartust ning hoolitses ülikooli raamatukogu töölerakendamise eest okupatsioonidevahelisel ajal.
Friedrich Puksoo osales koguteose "Eesti ajalugu" (1935–) ja "Eesti entsüklopeedia" (1932–1937) koostamise toimkonnas ning tegi kaastööd Kreeka ja Rooma kirjanduse antoloogiate koostamisel.
1945. aastal arreteeris NKVD Puksoo. Teda süüdistati koostöös Saksa okupatsioonivõimudega ning hoiti kuni 1954. aastani Narva ja Valga vangilaagrites.
Pärast vabanemist jätkas ta raamatuloolist uurimistööd ja töötas aastatel 1955–1958 Eesti NSV Teaduste Akadeemia keskraamatukogus.
Friedrich Puksoo suri 1969. aastal Tallinnas, ta on maetud Tartu Raadi kalmistule.
Allikad
Friedrich Puksoo. Vikipeedia; https://et.wikipedia.org/wiki/Friedrich_Puksoo
Vil! Friedrich Puksoo 125. sünniaastapäevale pühendatud ettekandepäev Tartu Ülikooli raamatukogus; https://www.sakala.ee/uudised/vil-friedrich-puksoo-125.-s%C3%BCnniaastap%C3%A4evale-p%C3%BChendatud-ettekandep%C3%A4ev-tartu-%C3%BClikooli-raamatukogus
Heade mõtete pingid. Tartu Ülikooli muuseum; https://www.muuseum.ut.ee/et/content/heade-m%C3%B5tete-pingid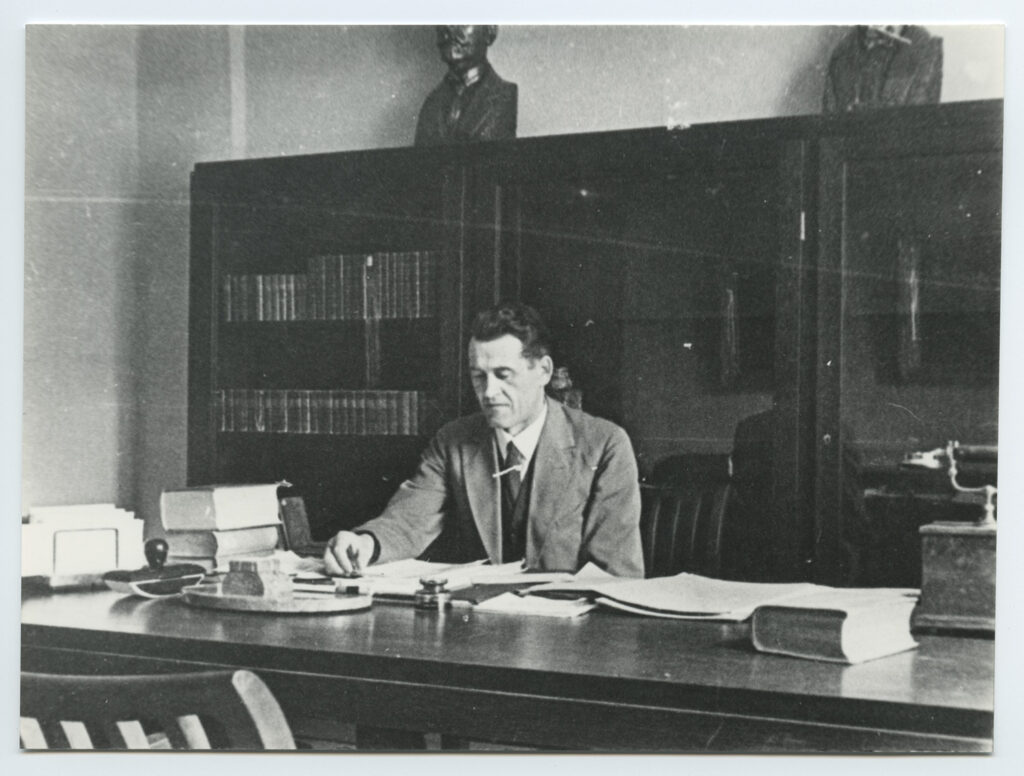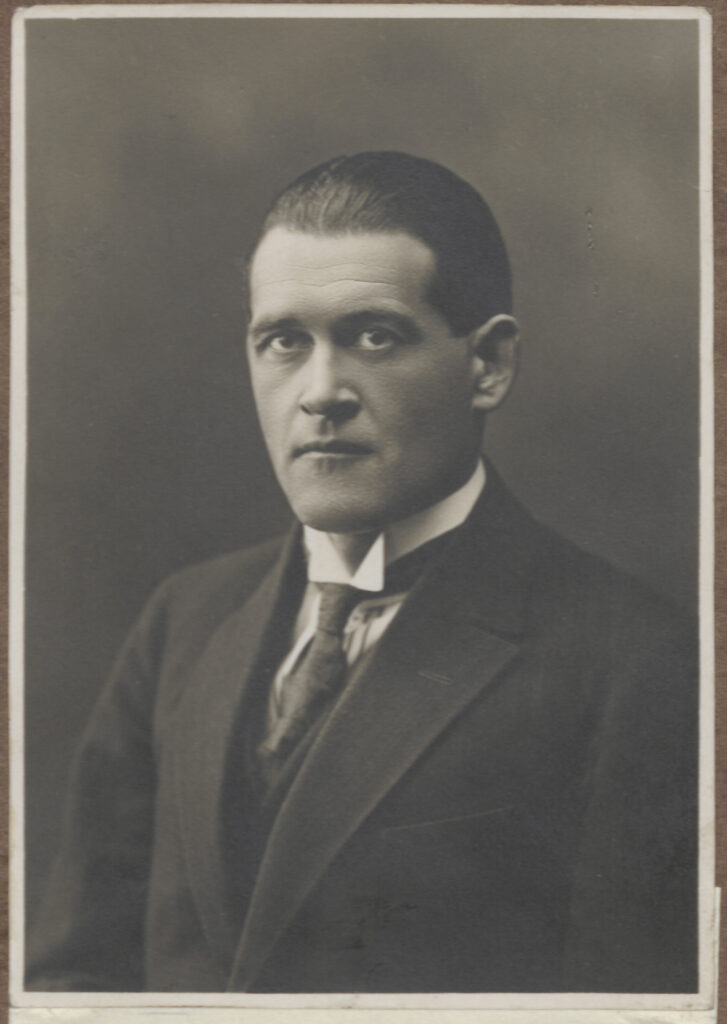 ENG:
Puksoo's bench in front of Tartu cathedral
In 2019, on the occasion of the 100th anniversary of Estonia's national university, the memorial bench of Friedrich Puksoo, the former director of the University of Tartu library, was placed on Toome Hill.
Friedrich Puksoo (until 1935 Puksov), Estonian bibliographer and librarian, the founder of librarianship in Estonia, was born on 23 January 1890 on Sillaotsa farm in Naha village, Meeksi parish. In 1914 he graduated as a classical philologist from the University of Tartu.
On 1 January 1920, Puksoo was appointed the director of the University of Tartu's library.
From 1927, he organised courses in librarianship and bibliography, which formed the basis for the professional training of librarians at the university. In 1944, Puksoo established the Chair of Bibliography in the Department of History and Linguistics. In 1941 and 1944, he participated in the evacuation of the collections from Tartu and was responsible for keeping the university library in operation in the period between the occupations.
Friedrich Puksoo was on the editorial board of the compendium "Eesti ajalugu" ("History of Estonia", 1935–) and the Estonian Encyclopedia (1932–1937), and contributed to compiling the anthologies of Greek and Roman literature.
In 1945, Friedrich Puksoo was arrested by the NKVD (the People's Commissariat for Internal Affairs in the Soviet Union). He was accused of collaborating with German occupation authorities and was held in prison camps at Narva and Valga.
After his release, he continued his research on the history of books, and in 1955–1958 he worked at the Central Library of the Estonian SSR Academy of Sciences.
Friedrich Puksoo died in 1969 in Tallinn, and was buried in Raadi cemetery in Tartu.
Sources
Friedrich Puksoo. Vikipeedia; https://et.wikipedia.org/wiki/Friedrich_Puksoo
Vil! Friedrich Puksoo 125. sünniaastapäevale pühendatud ettekandepäev Tartu Ülikooli raamatukogus; https://www.sakala.ee/uudised/vil-friedrich-puksoo-125.-s%C3%BCnniaastap%C3%A4evale-p%C3%BChendatud-ettekandep%C3%A4ev-tartu-%C3%BClikooli-raamatukogus
Benches of Good Thoughts. University of Tartu Museum; https://www.muuseum.ut.ee/en/content/good-thoughts-benches