KP13
EST:
Pop-up-raamatukogu, Liivi 4 ja Veski 32
2016. aasta suvel suleti W. Struve 1 asuv ülikooli raamatukogu hoone renoveerimistöödeks ja lugemissaalid koliti endisesse Rahvusarhiivi hoonesse J. Liivi 4.
Seda maja oli raamatukogu võimaliku asupaigana näinud juba raamatukoguhoidja abi Karl Duhmberg, kes tegi 1920. aasta aprillis (mil direktor Friedrich Puksoo oli kogude tagasitoomise asjus Petrogradis) rektorile ettepaneku kohandada raamatukogu vajadusteks üliõpilasühiselamu Hetzeli tänaval (praegune J. Liivi 4). Esimesele korrusele pidid tulema lugemisruumid ja personali tööruumid, ülemiste korruste tubadesse hoidlad, mis mahutaks 700 000 köidet, juurdeehituse korral isegi 800 000.
2016. aastal ajutisele pinnale viidud raamatukogu avasid Zerkala tuletantsijad. Ligi 500 ruutmeetril jagus lugejatele mitmesuguse suurusega ruume, mis sobisid nii üksi õppimiseks kui ka rühmatööks. Soovijad said kasutada arvutit ja printida. Eksamisessiooni ajal oli avatud ööraamatukogu, kus võis õppida keskööni. Pop-up-lugemissaalid pidid esialgu olema avatud vaid 2016. aasta lõpuni, kuid renoveerimistööde pikenemise tõttu jäädi ajutisele pinnale kauemaks.
Kuna 2017. aasta sügisel tuli Liivi tänava hoonesse ajutiselt majandusteaduskond, koliti lugemissaalid juuni lõpus ühe tänava võrra edasi, endisesse Eesti Rahva Muuseumi hoonesse Veski 32. Tagasi W. Struve tänava majja jõudis raamatukogu 2018. aasta aprillis.
Allikas
Rahvusarhiiv. Fond 2100, nimistu 9, säilik 3, leht 73 (EAA.2100.9.3, l. 73).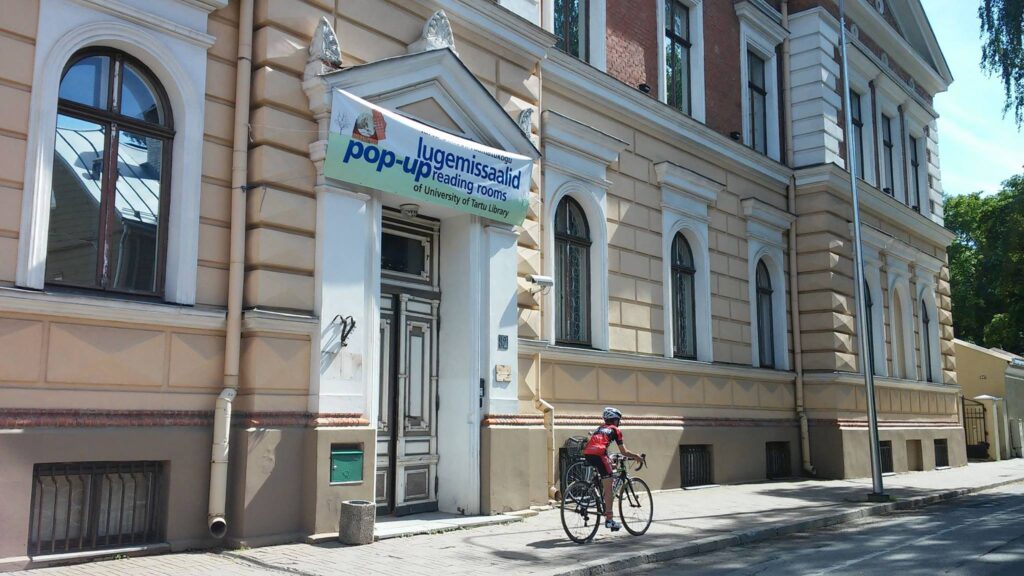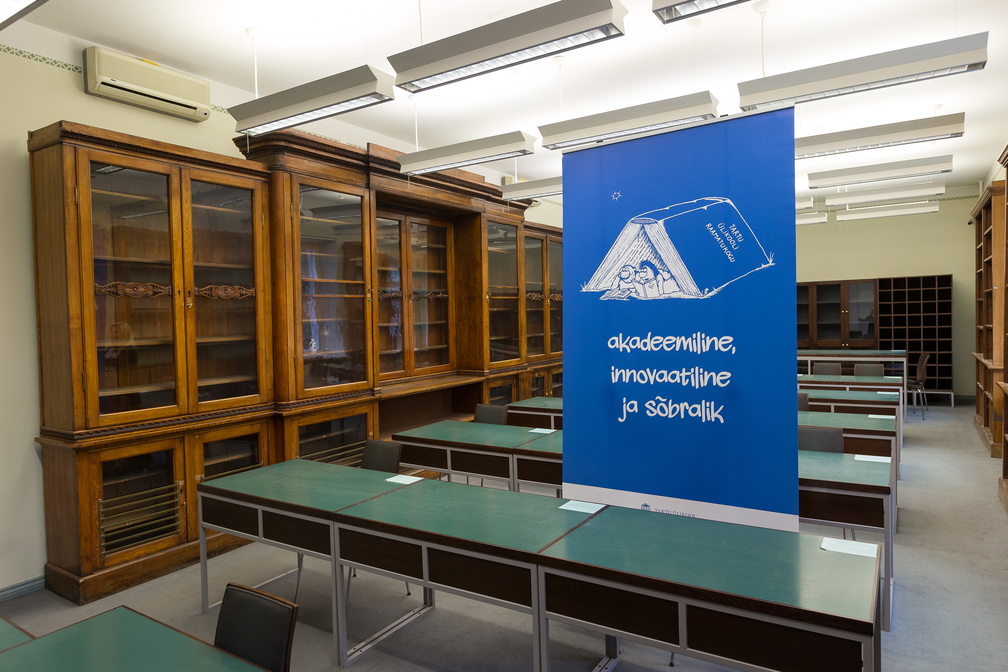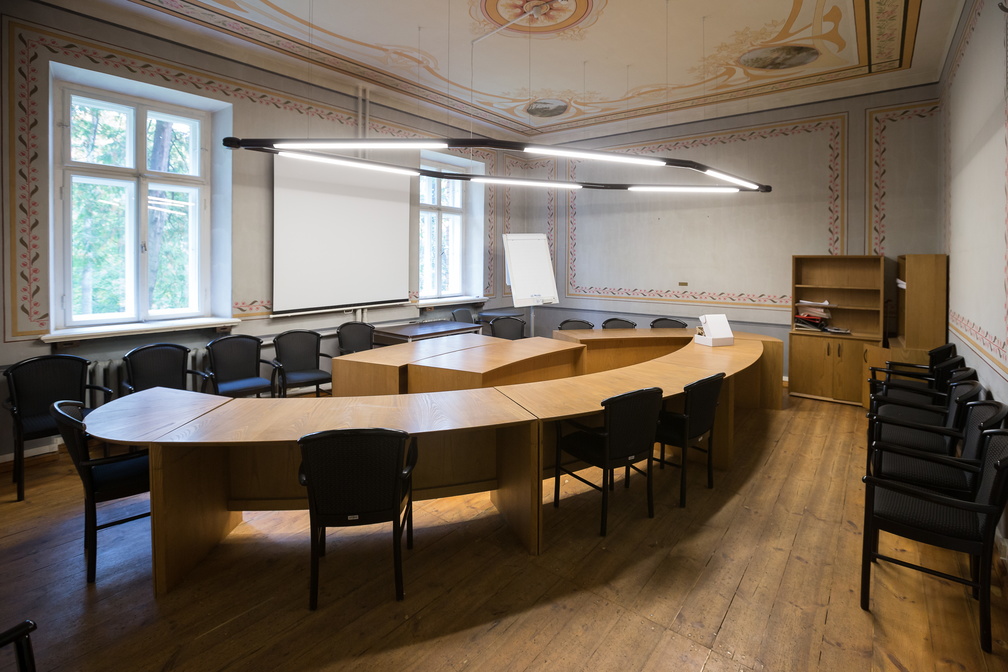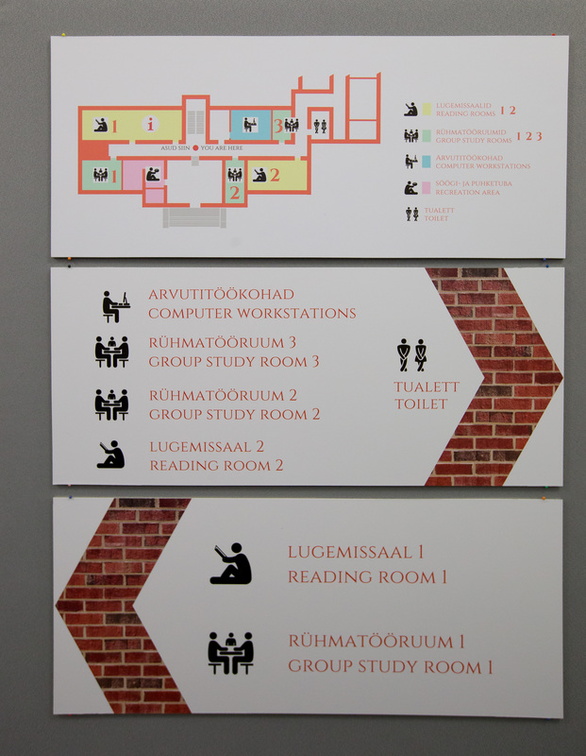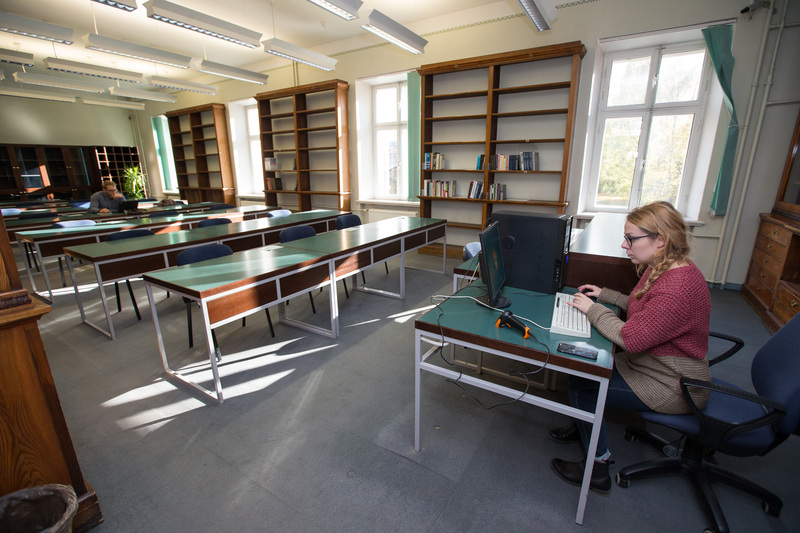 ENG:
Pop-up reading rooms, Liivi 4 and Veski 32
In the summer of 2016, the university library building at W. Struve 1 was closed for renovations and the reading rooms were moved to the former building of the National Archives of Estonia at J. Liivi 4.
This house had already been seen as a possible location of the library by assistant librarian Karl Duhmberg, who in April 1920 (when director Friedrich Puksoo was in Petrograd for the return of the collections) proposed to the rector to adapt the dormitory building in Hetzel street (now J. Liivi 4) for library needs. The ground floor was to house reading rooms and staff working rooms, and the upstairs rooms were to hold stacks to store 700,000 volumes, or even 800,000 if an extension were built.
When the library was moved to the temporary premises in 2016, the Zerkala fire dancers performed at the opening event. For the readers, the building offered nearly 500 square metres of rooms of different sizes, suitable for individual study and groupwork. There was a possibility to use the computer and printer. During the exam period, the Night Library was open until midnight. The reading rooms were planned to be used until the end of the year 2016 but due to the extended duration of renovation works, the rooms remained in use longer.
In the autumn of 2017, the School of Economics and Business Administration started to work in the building in Liivi street and the reading rooms were moved to the next street, into the former building of the Estonian National Museum at Veski 32. The library returned to the building at W. Struve 1 in April 2018.
Source
Rahvusarhiiv. Fond 2100, nimistu 9, säilik 3, leht 73 (EAA.2100.9.3, l. 73).