KP17
EST:
Oskar Lutsu elukoht Riia mnt 38
Ülikooli raamatukogul oli märkimisväärne koht noore autori Oskar Lutsu elus ja kujunemisloos. Luts kolis Palamuselt Tartusse tädi juurde 1899. aastal, et jätkata siin oma kooliteed. Tänu tädi tutvusele ülikooli raamatukoguhoidja Aleksandr Rastorgujeviga kujunes noorest Lutsust vanahärra hoolealune. Veel sama kooliaasta esimese veerandi lõppedes, otsekui tasuks hea tunnistuse ja lohutuseks kojusõidu ärajäämise eest, viis Rastorgujev Lutsu esimest korda ülikooli raamatukokku. Külaskäik jättis koolipoisile sügava mulje: "Et küll maailmas üldse on niipalju raamatuid! Kõnnin kikivarbail härra Rastorgujevi kõrval, ahnelt kuulates tema seletusi. Tunnen end nagu muinasjuturiigis." (Mälestused II, lk 211).
Aastal 1919, mil kirjanik Lutsust oli saanud perepea, palus ta endale ülikooli raamatukogus töökohta ning juba 27. augustil määrati ta esimese järgu ametnikuks palgaga 665 marka kuus. Friedrich Puksoo (ülikooli raamatukogu juhataja 1920–1944) arvates mõjutas Oskar Lutsu raamatukogutööd valima varasem lähedane tutvus Rastorgujeviga, tänu kellele oli tal korralik ettekujutus raamatukogu struktuurist ja oludest. Kõige tähtsam oli Puksoo sõnul aga see, et Luts tundis huvi kirjanduse vastu ja võis väärikalt suhtuda oma kutsetöösse ja raamatukogu varadesse.
Oskar Lutsu teenistusaeg ülikooli raamatukogus sattus rahutusse ja töörohkesse aega. Raamatukogu põhivarad asusid alles Voronežis, kuhu nad I maailmasõja ajal olid evakueeritud. Esialgu oli Lutsu töö kirjanduse laenutamine õppejõududele ja üliõpilastele. 1920. aasta augustis jõudsid raamatukastid Voronežist pärale ja koos üliõpilastega paigutati need riiulitesse. Kohe teenistuse algul sai Lutsu ülesandeks ka eestikeelse kirjanduse hooldamine ja komplekteerimine. Kuna sügiseks olid Voronežist tulnud raamatud laenutamiseks valmis, sai sellest Lutsu peamine tööülesanne. Samuti nautis ta väga ekskursioonide juhatamist raamatukogus – need võimaldasid tal väljendada oma sügavat kiindumust raamatutesse ja kultuurilukku. Raamatukogust lahkus Oskar Luts 1920. aasta sügisel, et avada oma isiklik raamatukauplus.
Allikas
E. Hansson, Oskar Luts ja ülikooli raamatukogu. – TRÜ, 09.01.1987.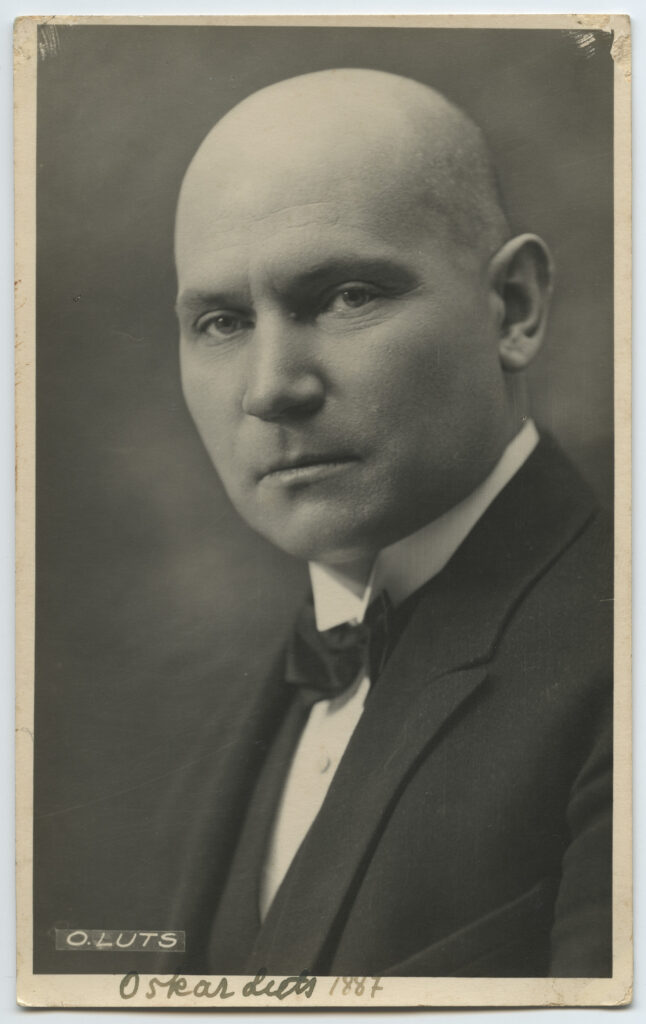 ENG:
Oskar Luts' house, Riia road 38
The university library played a significant role in the life and development of the young author Oskar Luts. Luts moved from Palamuse to his aunt's place in Tartu in 1899 to continue his education here. Thanks to his aunt's acquaintance with the university librarian Aleksandr Rastorgujev, young Luts became the protégé of the old man. Already at the end of the first quarter of the schoolyear, Rastorgujev took Luts to the university library for the first time, as a reward for a good report card and to comfort him for not being able to go home. The visit left a deep impression on the schoolboy: "How on earth can there be so many books in the world! I tiptoed beside Mr Rastorgujev, eagerly listening to his explanations. I feel like I'm in a fairytale kingdom." (Mälestused II, p. 211).
In 1919, when writer Luts had become the head of family, he applied for a job in the university library, and already on 27 August he was appointed as a first-rank clerk with the monthly salary of 665 marks. According to Friedrich Puksoo (director of the university library 1920–1944), Oskar Luts' decision to become a librarian was influenced by his close acquaintance with Rastorgujev, who had given him a good understanding of the structure and situation of the library. Most important, according to Puksoo, was the fact that Luts was interested in literature and had a respectful attitude to his profession and library assets.
Oskar Luts worked at the university library in a turbulent and busy period. The library's main assets were still in Voronezh, where they had been evacuated during World War I. Initially, Luts's job was to lend literature to lecturers and students. In August 1920, the boxes with books arrived from Voronezh and were shelved with the help of students. Right at the beginning of his service, Luts also became responsible for maintaining and acquiring Estonian literature. This became Luts' main task when the books from Voronezh were ready for lending in the autumn. Luts also greatly enjoyed guiding tours of the library, which allowed him to express his deep affection for books and cultural history. Oskar Luts left the library in the autumn of 1920 to open his own bookshop.
Source
E. Hansson, Oskar Luts ja ülikooli raamatukogu. – TRÜ, 09.01.1987.