KP20
EST:
Karlova mõis, Faddei Bulgarin, Salme 2b
Faddei Venediktovitš Bulgarin (1789–1859) oli vene ajakirjanik, prosaist, kriitik ja kirjastaja. Juttude järgi peeti teda Puškini põhivaenlaseks.
Bulgarin viibis Tartus esimest korda 1807. aastal, mil ta osales sõjaretkel Saksamaale. Üle 20 aasta hiljem, aastal 1828 ostis ta 60 000 rubla eest Otto von Krüdenerilt hooletusse jäänud Karlova mõisa. Tartu kui elukoha kasuks kõneles ka Bulgarini huvi saksa kultuuri, kirjanduse ja teaduse vastu. Ta käis tihedalt läbi saksa kultuuri esindajatega, näiteks Wilhelm Struve, Friedrich Parrot' ning isegi raamatukogu esimese direktori Karl Morgensterniga, kellele saadetud kirjad on säilinud ülikooli raamatukogus.
Hoopis keerulisemad olid Bulgarini suhted tudengitega. Kõik Bulgarini Tartu-perioodi uurijad armastavad kirjutada tülist, mis puhkes Karlova mõisniku ja tudengite vahel 1832. aasta sügisel. Umbes kuussada üliõpilast kavatses anda talle kassikontserdi. Ja ehkki skandaali jõuti vältida, teatas Bulgarin sellest kolmandasse osakonda (Venemaa riikliku julgeoleku ametkond), mille tagajärjel pandi mitu õppurit kartsa. Pärast seda visatud kiviga sisse üks häärberiaken, ehmatades kirjaniku lapseootel abikaasat. Kassikontserdi lugu on mitut puhku kirjeldatud mälestustes (näiteks räägivad sellest Juri Arnold ja Nikolai Pirogov). On teada ka juhtum, mil tudengid sundisid Bulgarini tütart tõllast välja astuma ja tänaval tantsima.
Bulgarin suri 1859. aastal ja on maetud Raadi kalmistule. Suure bibliofiilina muretses ta väga oma arhiivi ja pärandi säilimise pärast. 1918. aasta detsembris rüüstati Karlova mõisa vabadussõjaaegse punaväelaste pogrommi käigus, lõhkudes ka skulptuure ja maale ning põletades raamatuid. Põhiosa Bulgarini raamatukogust õnnestus viia ülikooli raamatukokku varjule ning ülikool ostis selle välja 1920. aastal. Praeguseks säilinud osa aga kahvatub algse bibliofiilse kogu kõrval.
Allikad
M. Salupere, Malle Salupere: vene "postipapa" tõusev tuntus. – Postimees, 11.09.2009.
B. Veizenen, Faddei Bulgarin (1789–1859). EEVA; https://utlib.ut.ee/eeva/index.php?lang=et&do=autor&aid=28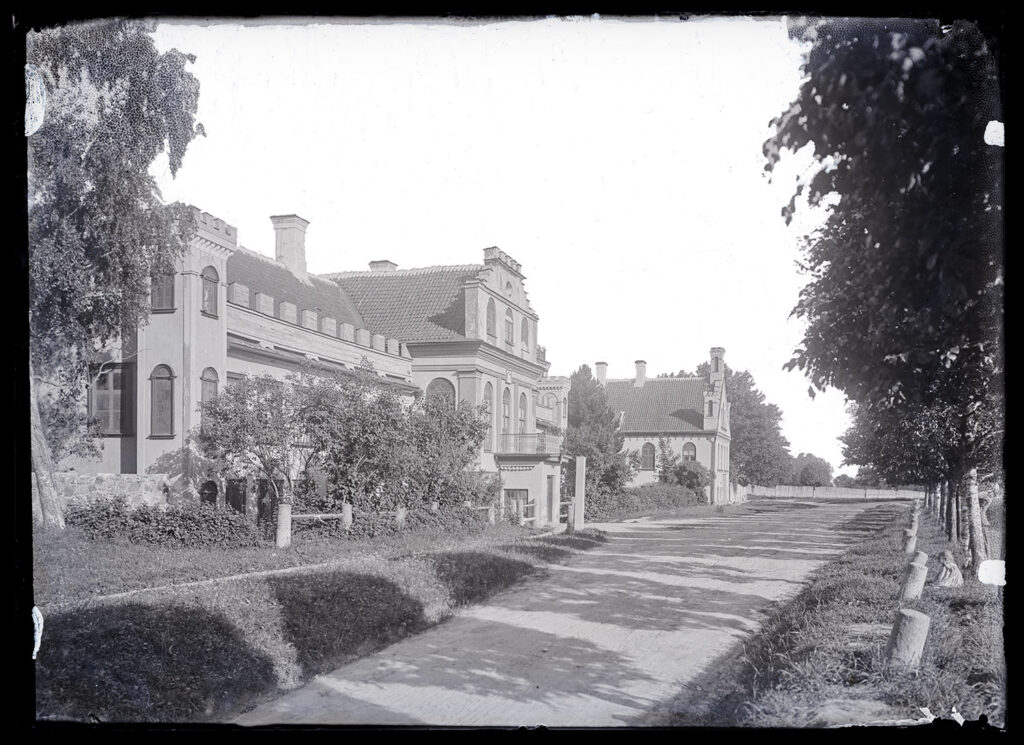 ENG:
Karlova manor, Thaddeus Bulgarin, Salme 2b
Thaddeus Venediktovich Bulgarin (1789–1859) was a Russian journalist, writer, critic and publisher. He was believed to be the main enemy of Pushkin.
Bulgarin was in Tartu for the first time in 1807, when he took part in a military expedition to Germany. More than 20 years later, in 1828, he bought the neglected Karlova manor from Otto von Krüdener for 60,000 roubles. Bulgarin's interest in German culture, literature and science also spoke in favour of Tartu as a place to live. He was in close contact with representatives of German culture, such as Wilhelm Struve, Friedrich Parrot and even the first director of the library, Karl Morgenstern, and his letters to them have been preserved in the university library.
Bulgarin's relationships with students were much more complicated. All researchers of Bulgarin's Tartu period love to write about a quarrel that broke out between the Karlova manor lord and students in the autumn of 1832. About six hundred students decided to give him a "meowing concert". And although scandal was avoided, Bulgarin notified the Third Section (Russia's department of political security), and several students were locked up as a result. After that, a stone was thrown into one of the mansion windows, startling the writer's pregnant wife. The story of the meowing concert has been described in various memoirs (for example, by Juri Arnold and Nikolai Pirogov). In another incident, students forced Bulgarin's daughter to get out of the carriage and dance in the street.
Bulgarin died in 1859 and was buried in Raadi cemetery. As a bibliophile, he was greatly concerned about the preservation of his archives and heritage. During the Estonian War of Independence in December 1918, Karlova manor was ransacked by Red Army troops, who broke sculptures and paintings and burnt books. Most of Bulgarin's library was taken to the university library and the university bought it in 1920. The surviving part, however, is incomparable to the bibliophile's original collection.
Sources
M. Salupere, Malle Salupere: vene "postipapa" tõusev tuntus. – Postimees, 11.09.2009.
B. Veizenen, Faddei Bulgarin (1789–1859). EEVA; https://utlib.ut.ee/eeva/index.php?lang=et&do=autor&aid=28