17th European Rogaining Championships
4-5 September 2021
Schedule
| | |
| --- | --- |
| 10:00 | Event Centre is open |
| 10:00-21:00 | Registration and handing out event materials |
| | |
| --- | --- |
| 7:00 | Registration |
| 8:00 | Breakfast for participants |
| 9:00 | Map handout for ERC2021 |
| 12:00 | ERC2021 mass start for all classes |
| 12:15 | Map handout for 6h open race |
| 13:00 | Mass start for all classes in 6 hour open race |
| 19:00 | Finish for 6 hour rogaine |
| 20:00 | Prize-giving for the 6 hour rogaine |
| 20:30 | Hash House opens |
| 20:02 | Sunset |
| | |
| --- | --- |
| 6:20 | Sunrise |
| 10:00 | Hash House closes |
| 11:30 | After-finish catering |
| 12:00 | ERC2021 finish |
| 12:30 | Finish closes |
| 13:15 | Deadline for submitting protests |
| 14:00 | ERC2021 prize-giving |
| 18:00 | Event Centre closes |
Bulletin 2
17th European Rogaining ChampionshipsQualifying Event for the World Rogaining Championships
Date 4–5 September 2021
Event European Rogaining Championships 2021 (ERC2021) are held as a 24 hour rogaine. Additionally, a concurrent 6 hour open (non-championship) race is organised.
Organizers MTÜ Seiklushunt and Estonian Orienteering Federation (EOF)
Rules
ERC2021 is held as an IRF sanctioned event, in accordance with the IRF Rules of Rogaining. Pursuant to Rule 12, each team competing at ERC2021 will be issued a GPS device as an item of mandatory equipment to track the team while on course. One team member shall carry the GPS tracking device at all times, attached to the upper arm. Any adjustments of the Rules will be notified in the following bulletins.
Event Centre
Event Centre is located at Tehvandi Sport Center, Nüpli village 67408, Otepää municipality, Estonia. GPS coordinates: N58.0535204, E26.5025675
Website of the Event Centre host: https://www.tehvandi.ee/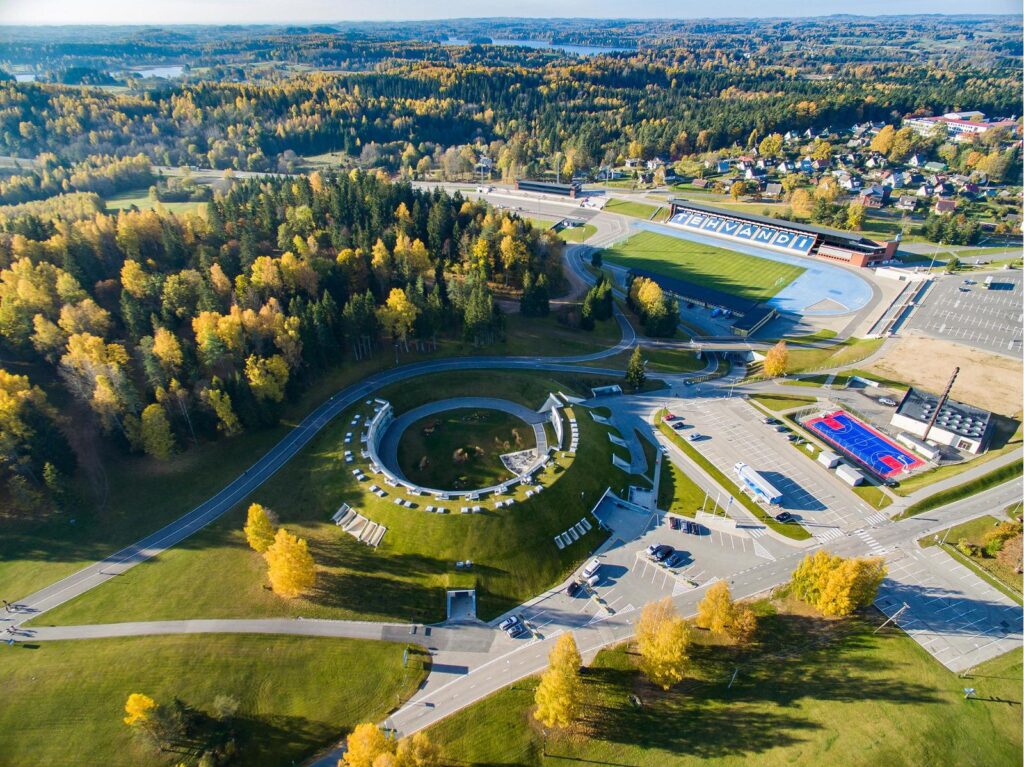 Photo: Tehvandi Sports Centre www.puhkaeestis.ee/et/tehvandi-spordikeskus
Event site
The Event Centre nearby Estonia's winter capital Otepää (population 2167) lies in South Estonia, 43 km southwest of Estonia's second largest town Tartu. The competition area (about 300 km2) of the ERC 2021 terrain covers most of Otepää Nature Park – the country's largest, created in order to preserve the spectacular landscapes with its views and habitats. A beautiful hilly land has patches of both primeval forest and small-scale logging areas, interspersed with open grasslands and homesteads – some of which are out of bounds. The majestic Lake Pühajärv (Holy Lake) and also one of the most spectacular chains of lakes in Estonia in the primeval valley at Vidrike stand out from the myriad of lakes, streams and small marshes which characterise the terrain between hillocks. The network of roads and trails is generally good. Many of the open hilltops and slopes provide stunning viewpoints, while both the pristine and the young growth forests can be quite demanding in terms of runnability and visibility in early September.
Parts of the competition area have been used for local and international orienteering events, major ones including European Orienteering Championships in 2006 and the forthcoming World Ski Orienteering Championships in February 2021.
In 2015, a 3-hour rogaine was held on the terrain, see the map of this event.
A model event will be available before the event in the vicinity of the competition area.
All old maps can be viewed here: https://kaardid.orienteerumine.ee/ (you have to zoom in and click on the desired marked area).
If you choose from the lower left corner "Eesti O-kaart", you can see an automatically generated orienteering map. ( not working this option at the moment, but hopefully will work again soon!).
Photos from the terrain: link!
Automatically generated Estonia orienteering map: https://okaart.osport.ee/
Embargoed area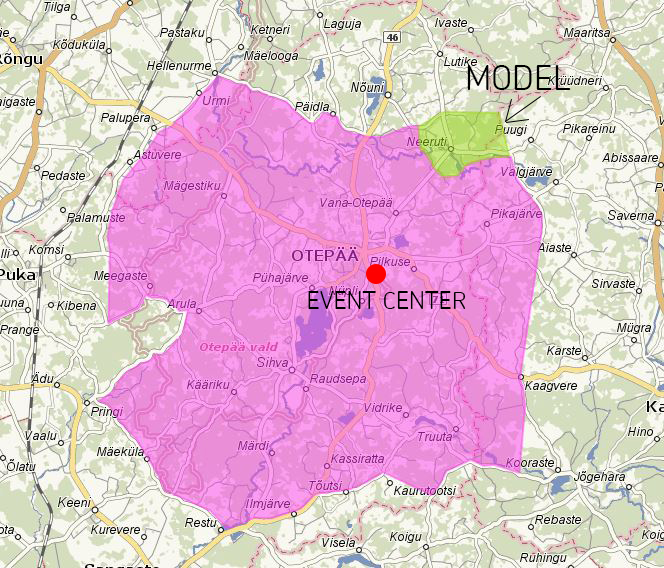 map source: kaart.delfi.ee
Under the embargo, independent or team trainings on the terrain with a map, as well as participation in any rogaining-type or adventure events or activities are prohibited from January 2021 until the start of ERC2021. The embargo does not preclude the following activities:
participation in skiing events held on the ski tracks of the terrain in winter 2021 (such as Tartu Ski Marathon);
participation in EOF calendar orienteering events held on the terrain, within the limits of the courses and orienteering maps of those events;
participation in running and biking events held on the terrain along the defined tracks of those events;
skiing, running and biking training without a map, which is confined to major roads and tracks.
Participants
A team shall consist of two or three members.
Competition classes
MO, WO, XO (open class – men, women and mixed teams);
MJ, WJ, XJ (youth, under 23 years of age – men, women and mixed teams);
MV, WV, XV (veterans, at least 40 years of age – men, women and mixed teams);
MSV, WSV, XSV (super veterans, at least 55 years of age – men, women and mixed teams);
MUV, WUV, XUV (ultra veterans, at least 65 years of age – men, women and mixed teams).
The age requirements specified for the given class should be satisfied as on the first day of competition, 4th September 2021.
Any team that has a member under 14 years of age shall also have a member 18 years of age or over. All participants under 18 years entered for a 24 hour rogaine should present a written permission from parents or legal guardians upon registration.
Changes to the team composition are free of charge until the end of the entry deadline. If a new member is added to the team already entered, the entry fee shall be the one effective on the new member's entry date. Any changes after the entry deadline bear a charge of EUR 5 per change
Event Programme (to be adjusted in the next Bulletins)
28 August 12:00 – 3 September 21.00 model event

3 September, Friday
from 10.00 Event Centre is open
from 10.00–21.00 Registration and handing out event materials
4 September, Saturday
from 7.00 Registration
from 8.00 Breakfast for participants
9.00 Map handout for ERC2021
12.00 ERC2021 mass start for all classes
12.15 Map handout for 6h open race
13.00 Mass start for all classes in 6 hour open race
19.00 Finish for 6 hour rogaine
20.00 Prize-giving for the 6 hour rogaine
from 20.30 Hash House opens
20.02 Sunset
5 September, Sunday
06.20 Sunrise
10.00 Hash House closes
from 11.30 After-finish catering
12.00 ERC2021 finish
12.30 Finish closes
13.15 Deadline for submitting protests
14.00 ERC2021 prize-giving
18.00 Event Centre closes
Punching
SPORTident (SI) Air+ punching system will be used. Punching works in contactless mode up to a distance of 0.2 metres from the SI station. SIAC cards will be available for rent (EUR 2) to the participants of 24h and 6h rogaines.
Map
The scale of the competition map is 1:25 000, contour interval 5 metres. Map is based on Estonian Land Board data. Fieldwork and cartography autumn 2020 to summer 2021 by Markus Puusepp. Map data processed by Mihkel Järveoja. Previous orienteering maps have been used for additional details by the kind permission of the owners – OK Ilves, Otepää SK, Lutsu talu, OK Põlva Kobras and OK Kape. The map will be printed on waterproof material.
ERC21 map sample from "Väike Munamägi":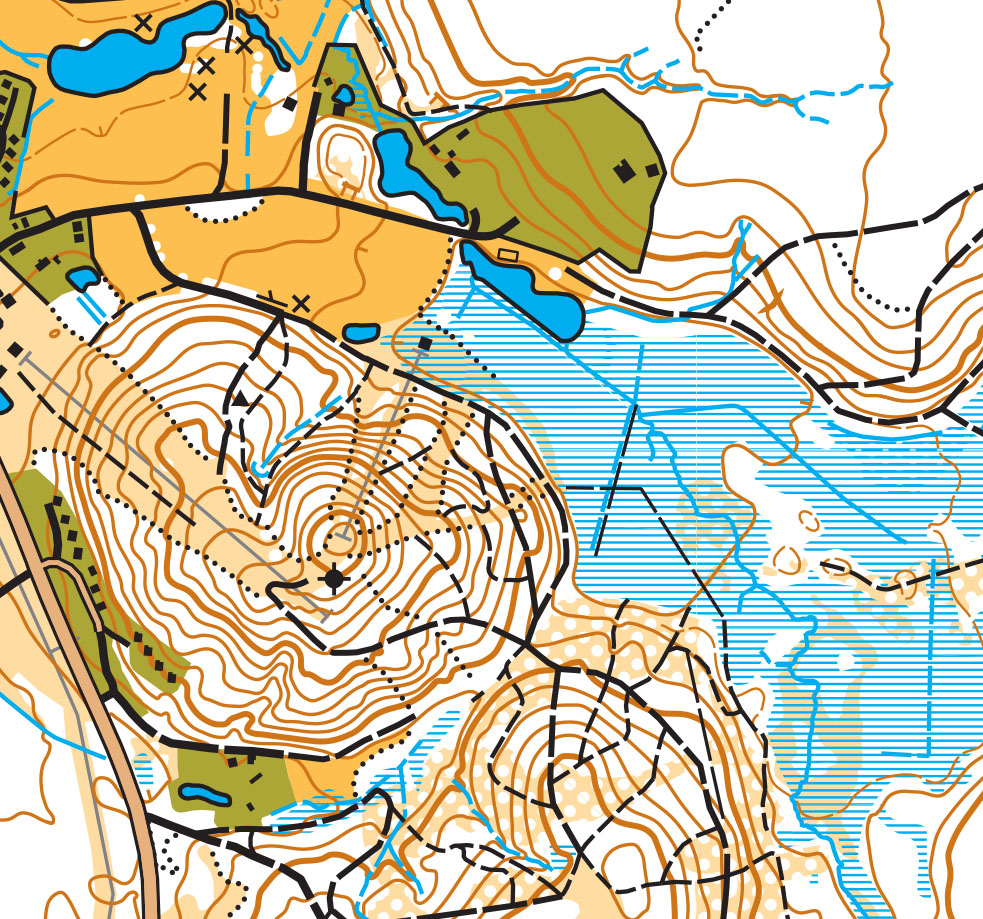 Scoring
Scoring is according to the IRF Rules for Rogaining. In accordance with Rule B17(b), to gain points for visiting a checkpoint, all members of a team should punch at the checkpoint within a time limit of 60 seconds.
A team's total score shall be the value of the checkpoints visited by the nominated finish time, less any penalty points. In the event of a tie the team that finished earlier shall be awarded the higher placing. Teams finishing late will be penalised at the rate one point per any full minute or part thereof. Teams finishing more than thirty minutes late will be recorded as 'Late'.
Entries
Online registration by completing the registration form at https://eventor.ee/erc24h will open on 8th of February 2021. Entries will close at 23:59 on 23 August 2021.

Entry Fee (EUR)
24h / per person
| | |
| --- | --- |
| Entry date | Entry fee |
| 08.02.2021–10.03.2021 | 65€ |
| 11.03–01.07.2021 | 80€ |
| 02.07–23.08.2021 | 90€ |

6h / per person
| | |
| --- | --- |
| Entry date | Entry fee |
| 08.02.2021–10.03.2021 | 25€ |
| 11.03–01.07.2021 | 30€ |
| 02.07–23.08.2021 | 35€ |
The entry fee is valid when settled within a week (7 days) after the last day of the relevant entry period.
The entry fee and any other payments have to be paid via a bank transfer to:
MTÜ Seiklushunt
Bank: AS Swedbank
Account: EE472200221061466747
BIC/S.W.I.F.T.: HABAEE2X
Registration No. 80381192
Registered address: Männi, Pupastvere küla, Tartu vald, Tartumaa, Estonia
Please specify the team name and ERC21 in the notes field of the transfer order.
For example: Team Seiklushunt/ERC21
If you need to negotiate an alternative payment method, please specify it in the notes or write to erc21@seiklushunt.ee. Any expenses related to the settlement of the entry fee should be met by the payer. In case any commissions or other charges are withdrawn from the amount to be paid, they should be compensated to the organiser by the participant.
The entry fee covers the following services:
For ERC (24h) rogainers
Race material (map, number bibs etc.), result service, catering (breakfast on 4 September, Hash House, after-finish catering with traditional as well as vegetarian and gluten-free food), prize pool, water stations on the course, souvenirs and other organising expenses, first aid during the race, parking in the Event Centre and tent space (2 nights) as well as other costs.
For 6h open race rogainers
Race material (map, number bibs etc.), result service, catering (breakfast, after-finish catering), prize pool, water stations on the course, souvenirs and other organising expenses, first aid during the race, short-term parking in the Event Centre as well as other costs.
Entry fee reimbursement policies:
If a team or a participant (in case of a 3 member team) cancels the participation after the entry fee has been settled, the fee is reimbursed as follows:
Cancelled by 31 June 2021 – 50%,
Cancelled by 30 July – 25%,
Any cancellations made after 1 August are not entitled to a reimbursement.
As there can be some travel restrictions from certain countries, we are willing to refund the entry fee, if you cannot travel to the race. The refund claim should be made before the race starts!
COVID-19:
We will follow state and local guidelines regarding COVID-19. Organizers will be closely monitoring the recommendations from the World Health Organization (WHO) and will continue to communicate best practices as they evolve up until the ERC2021. We sincerely hope to organize the event, but we have to acknowledge that there can be some new rules and restrictions due to the COVID-19. Any applicable rules and restrictions will be communicated in the following Bulletins.
Covid-19 situation is very good at the moment in Estonia and from June 28th 2021, it is allowed to organize outdoor events with up to 5000 people. Based on the current rules, ERC21 can be organized. As there can be some travel restrictions from certain countries, we are willing to refund the entry fee, if you cannot travel to the race. The refund claim should be made before the race starts!
From 12th July all competitors who have not completed the vaccination, entering Estonia from countries that do not belong to the European Union "green list", have to provide a negative result of a COVID-19 test. It can be either a PCR test not older than 72 hours or an antigen test not older than 48 hours.
Latest information about traveling to Estonia: https://vm.ee/en
Prize-giving
Top three teams in all competition classes will be awarded medals and prizes.
Transportation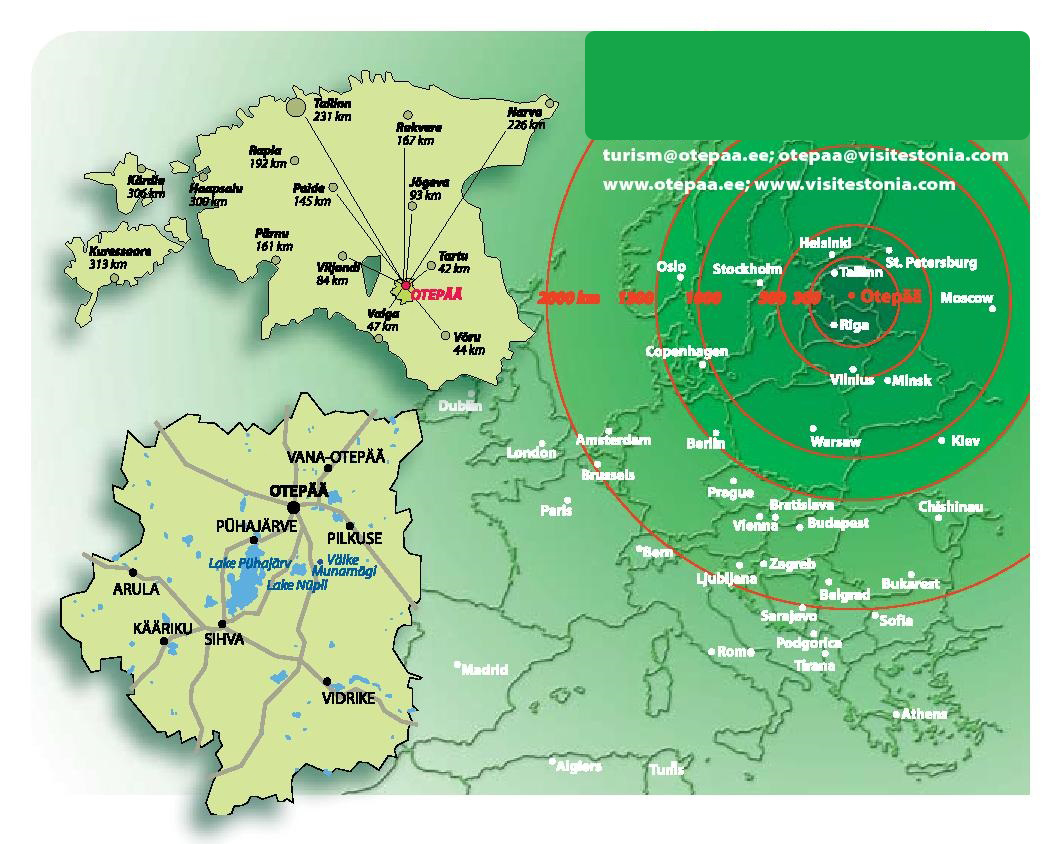 Photo: Otepää tourist information http://www.otepaa.eu/en/
The event center is located in Otepää which is the sports capital of Estonia, especially known for its wide range of winter sports possibilities.
Closest international airports are situated in:
When choosing public transport then nationally Otepää is best reached by bus. Otepää bus station is at the address Tartu mnt 1.
National bus ticket information can be found here: www.tpilet.ee or www.peatus.ee
When searching international bus connections from Riga then these links might be helpful: www.luxexpress.eu, www.ecolines.net. International buses do not make a stop in Otepää, so take into consideration the possibility of having to change to national bus either in Valga or Tartu etc.
Car, bus, bicycle, motorcycles and caravan parking will be arranged at the Event Centre.
Accommodation
There are a lot of options for accommodation in Otepää and also in Tartu. There are also good opportunities for the whole family to spend active time in Otepää and nearby.
A hotel at the Event Centre https://www.tehvandi.ee/
Other accommodation – the local Tourist Information Office (http://otepaa.eu/en/) offers a wide range of accommodations at various cost categories: holiday cottages, farmsteads, hotels and budget accommodations. Area for camping in tents will be arranged right in the Event Centre. The event entry fee includes tent space for 2 nights (Friday-Sunday).
Weather and climate at the time of the race
According to long-term observations, at the beginning of September the daily temperatures in South Estonia are normally in the range of +15–19ºC and in the night +8–13ºC. The days are rather sunny and usually it still feels like summer in September. The nights are longer and with cloudy weather it can be more than 10hr darkness.
Accompanying persons and spectators
Accompanying persons and spectators (over 6 years of age) staying at the Event Centre shall pay a spectator fee of EUR 25 for 2-day camping, catering at the Hash House during the race and after the finish (24h), event map (to be delivered after the finish). Participants entered for the 6h rogaine and staying in the Event Centre throughout the 24h event shall pay a fee of EUR 20, which covers 2-day camping and parking, catering at the Hash House during the race and after the finish.
Visas
International travellers (in particular from non-Schengen countries, depending on your country of residence) may be required to hold a visa to travel to Estonia. For more information, please see the website of the Ministry of Foreign Affairs of Estonia.
Visa application has to be submitted through the visa center https://visa.vfsglobal.com/ , NB, the application cannot be submitted earlier than 30 days before the race!
If you require further assistance, please send us an email.
Insurance and responsibility
Competitors participate in the event at their own risk. We recommend that competitors have personal health and/or travel insurance. Participants are responsible for their own health and for insurance against accidents and possible injuries. If the participant is a minor (under 18 years of age), the responsibility lies with their parents/guardians. Upon registration at the Event Centre, all members of the team (in case of children, their parents or guardians), shall sign a waiver of liability form, which states that the participant is responsible for their state of health, and any possible accidents or injuries during the race. At the time of the race, it is possible to take routes to keep away from health and life hazards. The waiver of liability form will be published together with the pre-start information.
Personal data
At the time of filling the entry form and when participating in the race, a participant agrees that his or her personal data (name, surname, age) can be published in written, including electronic form for the purposes of compiling the entry, start and result lists, event news and reviews by the organisers (MTÜ Seiklushunt and EOF) both at the event center as well as on the event web-site and other web pages. The organisers will also send a copy of the full final results to the IRF.
Training possibilities
MTÜ Seiklushunt is organizing an 8h rogaine in South-Estonia where the mapper and course setter are the same as in the ERC21.
Instructions: https://seiklushunt.ee/training-rogain-instructions/
More information: https://seiklushunt.ee/uritus/8h-treeningrogain/
Contacts:
erc21@seiklushunt.ee (English, Estonian, Russian)
phone +372 5821 1203 (English, Estonian)
Organising team:
Arvi Anton – Director of the 17th ERC2021
Markus Puusepp – Mapper
Taavi Tatsi – Course Setter
Lauri Leppik – EOF Vetter and Event Advisor
Marili Zimmermann – Timing and Result Service
Tõnis Erm (sportrec.eu) – GPS tracking
More detailed information about the event will be provided in the next Bulletins, to be posted on the Internet website https://seiklushunt.ee/event/erc21/ as well as in Facebook @erc2021
Welcome to the17th ERC 2021!